Fall Sports Schedules!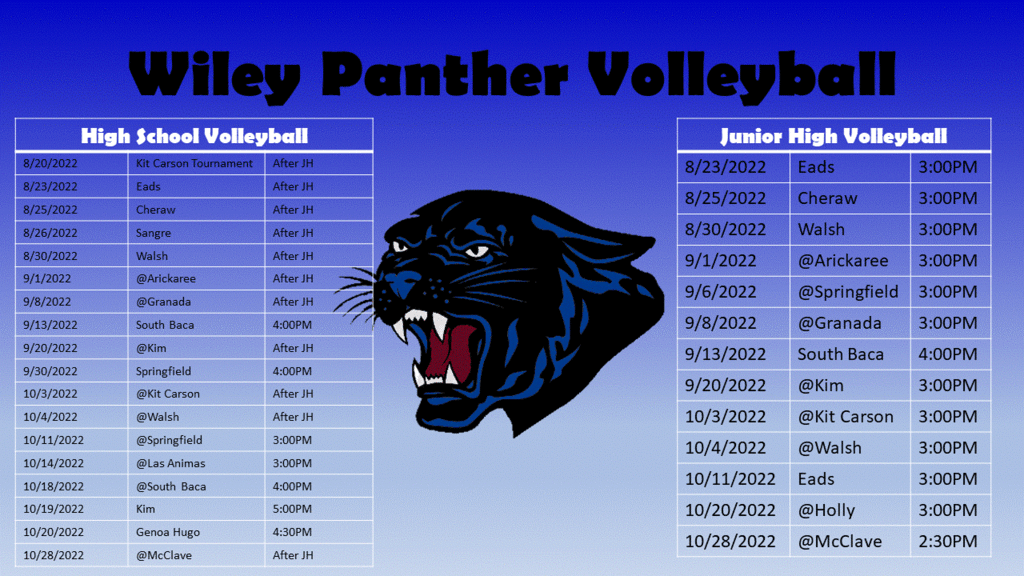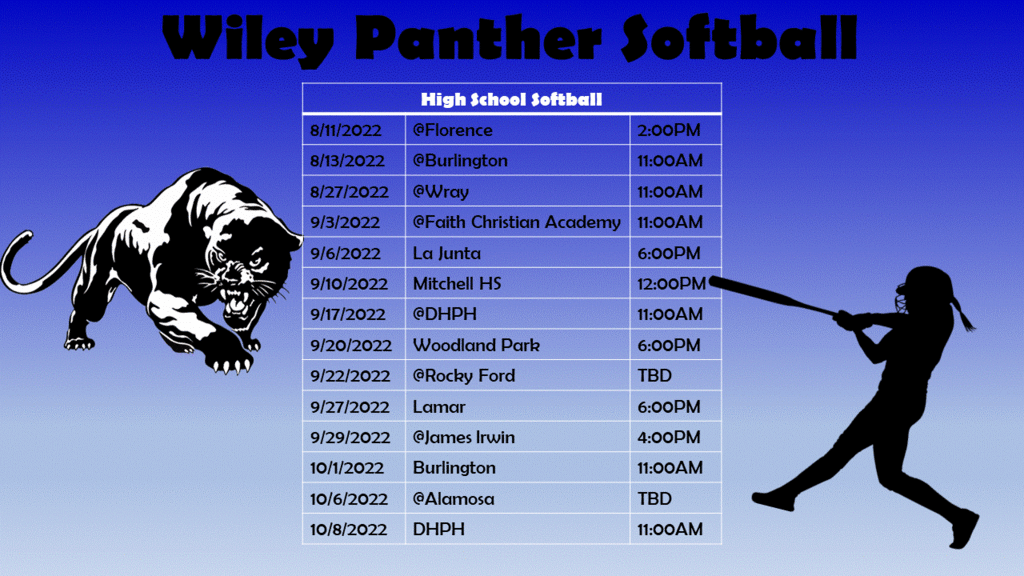 Don't miss your opportunity to get your student enrolled in school. Head to our website to fill out enrollment forms!
🚨BACK to SCHOOL ALERT🚨 It's hard to believe that it is already time to start thinking of going back to school, but we are less than a month away!! We wanted to give you some important upcoming dates: 🐾6th - 12th grade class registration - August 1st, 9:00 - 12:00 = Freshman - August 1st, 1:00 - 4:00 = Sophomores - August 2nd, 9:00 - 12:00 = Juniors - August 2nd, 1:00 - 4:00 = Seniors - August 3rd, 9:00 - 12:00 = 6th - 8th grades **parents MUST be present to register for classes! 🐾August 17th - first day of school for 6th-12th grade students 🐾August 17th & 18th - Kindergarten - 5th grade testing days **parents be on the lookout for more information on these two dates coming in the mail** 🐾August 17th & 18th - Preschool Open House. **More information to follow** 🐾August 22nd - Kindergarten - 5th grade first day of school (Supply lists are posted on our website) We are working on our Back-to-School BBQ and will get information out ASAP. We are looking forward to the 2022-2023 school year!! 💙🐾
Here is a list of events for Hay Days, happening tomorrow.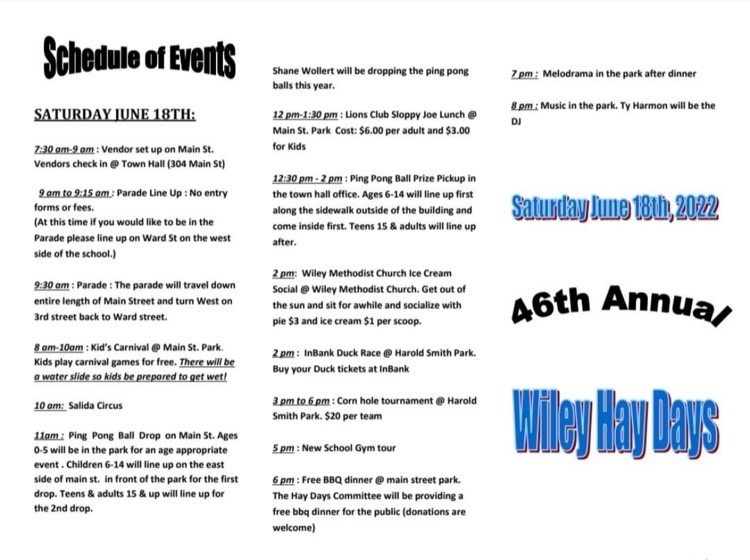 💙💙You're invited💙💙 🏀Join us for the gym grand opening tomorrow during Wiley Hay Days. 🏀Ribbon cutting and ceremony at 5:00. 🏀There will be an elementary and high school/community game of knock out at 5:15. Be the first person to win a completion in the new gym. No pre/registration required. See you there💙🐾🖤
For immediate release WILEY APPOINTS DR. BRYAN AKINS AS SUPERINTENDENT WILEY— 6/1/22—It is with pleasure that the Board of Education of Wiley School District announces Dr. Bryan Akins as their choice for Superintendent. "We have considered several outstanding candidates through a competitive selection process and we are looking forward to having Dr. Akins at the helm of Wiley Schools," says Neil Mauch, President of Wiley Board of Education. Dr. Akins has recently graduated with his Doctorate of Education in Organizational Leadership from Abilene Christian University and passed the Oklahoma Superintendent Certification Exam. Dr. Akins has an extensive career in education in both large and small districts where he has served as a teacher, technology director, transportation director, special education supervisor, coach, elementary principal, and high school principal. Dr. Akins is a Purple Heart recipient, retired, Sergeant of the United States Army. Akins states that his core values as an administrator are directly linked to the values instilled in him during his time in the service: loyalty, duty, respect, selfless service, honor, integrity, and personal courage. Dr. Akins was raised in Dale, Oklahoma and refers to himself as a "small-town guy." He and his wife, Jessica along with their son will be moving to Wiley from Keota, Oklahoma. Akins believes that small towns offer personal connections that are unique along with the best educational paths for students. The Board of Education of Wiley School District is pleased Dr. Akins has accepted this appointment. An official start date is set for July 1, 2022. For more information, press only: Dr. Bryan Akins
bryan.akins@wileyschool.org
719-829-4806
⚾️ ATTENTION WILEY BASEBALL PLAYERS ⚾️ 💙The Wiley High School baseball coaches would like to invite Wiley students to their baseball skills camp. 🐾Camp will start this week on Wednesday and run Monday, Wednesday and Friday. (camp will be held on the softball field while the baseball field is being worked on) 9th-12th graders = 9:00 - 10:15 3rd - 8th graders = 10:15 - 11:30 See you tomorrow morning, ready to go!!
Special Board Meeting - Friday at 8am. This will be for final consideration of the superintendent contract, resolution and approval of contract.
1A shot put on the podium 💙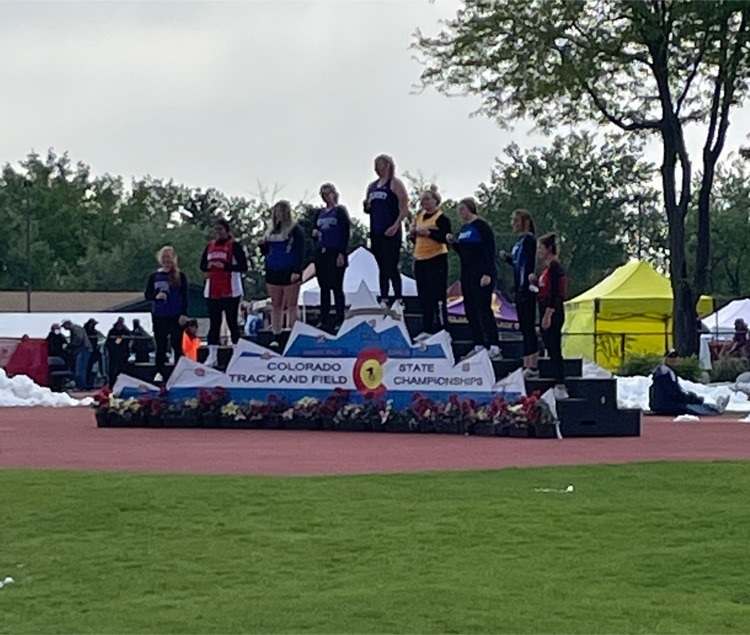 Congrats to our very own Johanna Brown in placing 5th in the state track meet in 1A shot put!! We are all so proud of you 💙🐾🖤
🥈Here we have Cooper on the podium 🥈 Also representing southeastern Colorado; Cheyenne Wells, Granada, and McClave. Small area schools, doing big things 🧡💚💙❤️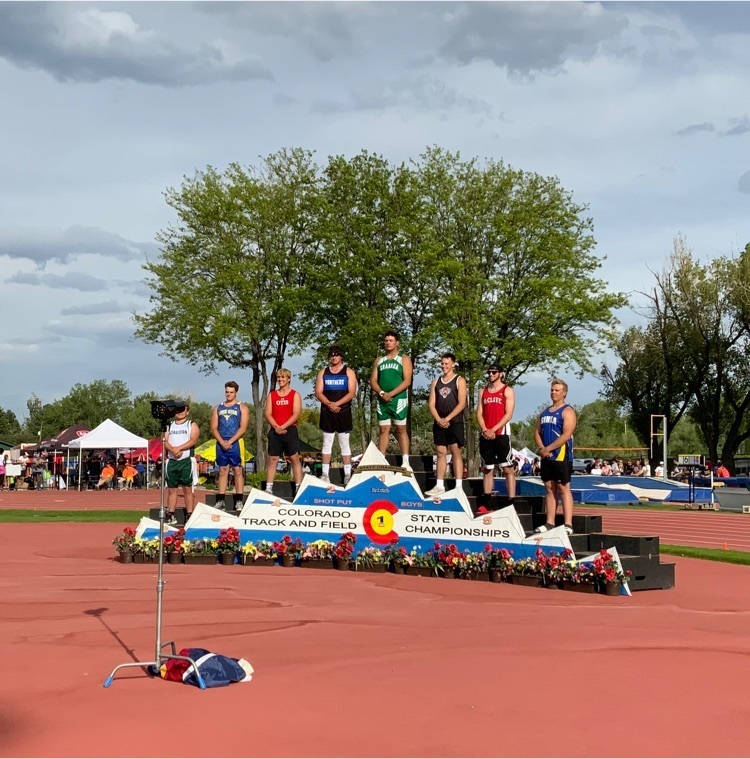 Congrats to our very own Cooper Tixier for placing second at the state track meet in 1A shot put!! We are all so proud of you. 💙🐾🖤
Here is the SportsYou code for JH and HS football. Please sign up to stay informed on summer activities, camps, and team related get-togethers. 🐾🏈 Code:U4KU-X72B
Here are the summer weight schedule's for JH and HS.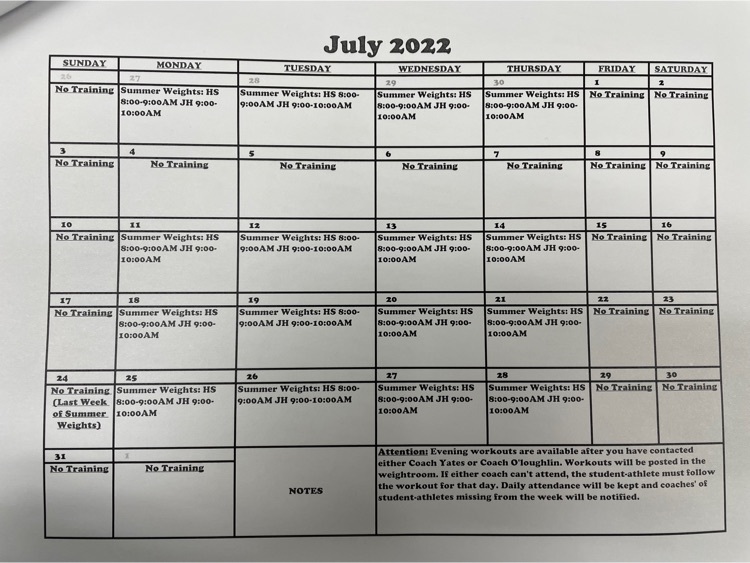 📣Our History of Wiley class is now taking reservations Anyone wanting to tour the WIley Museum in the Rock School House, please call the school to schedule a time to tour with Mrs. Piner and her History of WIley class!!
Last Week Information *Elementary* **Wednesday = Field Day @ Savage Stadium - K-2nd 9:30 - 11:15 - 3rd - 6th = 12:45-3:30 *** 3rd - 6th grade students can be released to parents following Field Day. **Thursday - State Track send off, beginning at 7:50 - Awards --K - 2nd = 8:15 - 9:15 --3rd - 5th = 9:30 - 10:30 - Dismissal @ 11 - Buses run @ 1130 ***NO LUNCH WILL BE SERVED - Elementary Student Council clean-up @ 11:30 - Anytime after awards, parents may take their kiddos. *Secondary* **Thursday - State Track send off, beginning at 7:50 - Check-out from 8:00 - 10:00 - Water Balloon Fight on the Softball field - 10:00 - After clean-up students will be released - Buses will run @ 11:30 **NO LUNCH WILL BE SERVED
The new gym will have an open house from 10 AM til 2PM on Sunday if you would like to see the progress. It's not quite done so please watch your step and please stay off of the playing surface by staying closer to the walls, but enjoy, it's beautiful!!! Please enter through the side doors by the playground. You can access through the main gym east doors if you would like to before or after graduation. Mr. Bollinger
4th and 5th grade had an amazing field trip today!!!
QUICK REMINDER 💙Happening Tuesday💙 Wiley Academic and Athletic Banquet ✏️📚🎨🏈🥎🏐🏀🤼⚾️🥇🎮 🐾Starting at 6pm in the gym. 🐾Main dish will be provided… Please bring: 6th grade - chips 7th grade - side dish 8th grade - dessert 9th grade - chips 10th grade - side dish 11th grade - dessert 🔹Hosted by the Wiley Accountability Committee and the Wiley Booster Club
Congratulations to Claudia Coronado, the first graduate from the Teacher in Training Program. Pictured with Mrs Coronado is Superintendent Bollinger who created the program and her mentor Mrs. Bollinger. The program provides potential teachers who show great promise, with financial assistance and classroom experience. An important part of the program is the candidate is paired with a master teacher to help learn the profession through hands on mentorship. Way to go Claudia!!